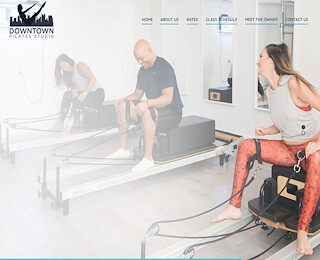 Downtown Pilates Studio is a boutique and full service Scottsdale Pilates studio where you can join group reformer classes, try private apparatus services, or sign up for an effective Pilates rehabilitation program. Try our services for free by registering in our website. You can find us in the Old Town.  
Pilates is best done in a Scottsdale Pilates studio with an instructor in a small class or in private. The exercise is very adaptable to meet your physical fitness needs. It is a great exercise if you want to train yourself to use your body well, improve muscle imbalances and misalignments, enhance posture, and reduce pain caused by wrong movements. Here are five tips for choosing a good Pilates studio in Scottsdale:
1.
Visit the studio. Find a studio in the Old Town of Scottsdale and schedule a visit to discuss your fitness goals and needs. You can also tour the studio, meet the instructors, and see if you like the studio overall.
2.
Read the trainer's bio. Most studios have a website where you can read about the trainers and instructors. Make sure that they are accredited and qualified to provide Pilates training, especially when it comes to handling Pilates equipment and assisting in injury rehabilitation.
3.
Sign up for a free trial. There are studios that offer a free trial. Downtown Pilates Studio is one of them, and you can sign up in this website to schedule a free Pilates session with a qualified instructor.
4.
Check out the equipment. See if the studio has a variety of equipment, including reformers.
5.
Amenities. Ask if they have amenities that you can use, such as restrooms and private changing rooms.
Looking for a good Scottsdale Pilates studio? Try Downtown Pilates Studio. We are at Nuss Building in the Old Town and across the Scottsdale Waterfront. Our boutique and full-service studio specializes in Pilates, so we provide private apparatus services and group classes. We want to help you obtain physical health, achieve bodily balance, and help you look and feel your very best. Schedule a free trial in this website now.
Scottsdale Pilates Studio