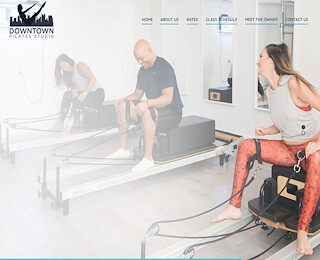 There's no need to go far to discover the benefits of Pilates when you go to Downtown Pilates Studio. We are a Pilates Scottsdale boutique studio that offers classes and private apparatus service. We provide Pilates rehabilitation services that can help aid weight loss, reduce body pains, and improve muscle cores.  
More physical therapists in the world are recognizing Pilates as one of the most effective forms of physical therapy for rehabilitation from injury. There are studios offering Pilates Scottsdale with rehabilitation programs that aim to reduce back pain, aid in weight loss, enhance athletic performance, and correct muscular imbalances. Pilates may also help athletes recover from their injuries and prevent further injuries. This is why Pilates is now considered an ideal alternative to traditional physical rehab.
One of the best things about Pilates is its versatility. It is adaptable to the person's needs and condition. The success of Pilates for rehabilitation is derived from its approach and its principles, such as even musculature and core strength. The exercises can be modified and tailored to your physical condition for maximum effectiveness. You can start with basic movements and gradually move to advanced exercises, depending on the severity of your injury or how you need to progress.
Traditional physical therapy only assigns you a set of exercises, which can be difficult to tolerate because of pain and the inability to correctly position your body to achieve the best results. Pilates, on the other hand, teaches you to correct your position to enhance the effectiveness of the exercises. In Pilates Scottsdale, you are also taught to be conscious about how your body moves and identify the best sequence of movement.
Try Pilates at our Old Town Scottsdale Studio. Downtown Pilates Studio is in Nuss Building, located across the waterfront. We have qualified trainers who will assist you in your Pilates rehabilitation program. Fill out the form in this website if you want to sign up for a free trial at Downtown Pilates Studio.